The Girl with X-ray Eyes
2008, 35mm on digital 23'. In exhibition at the Wellcome Collection, London. 'In Plain Sight' Nov 2022-Feb 2023. Photo credit: Phillip Warnell




Outlandish: Strange Foreign Bodies
2009, 35mm on digital 20'. Courtesy of Art Encounters Foundation Biennial, 2021. Photo credit: Adrian Câtu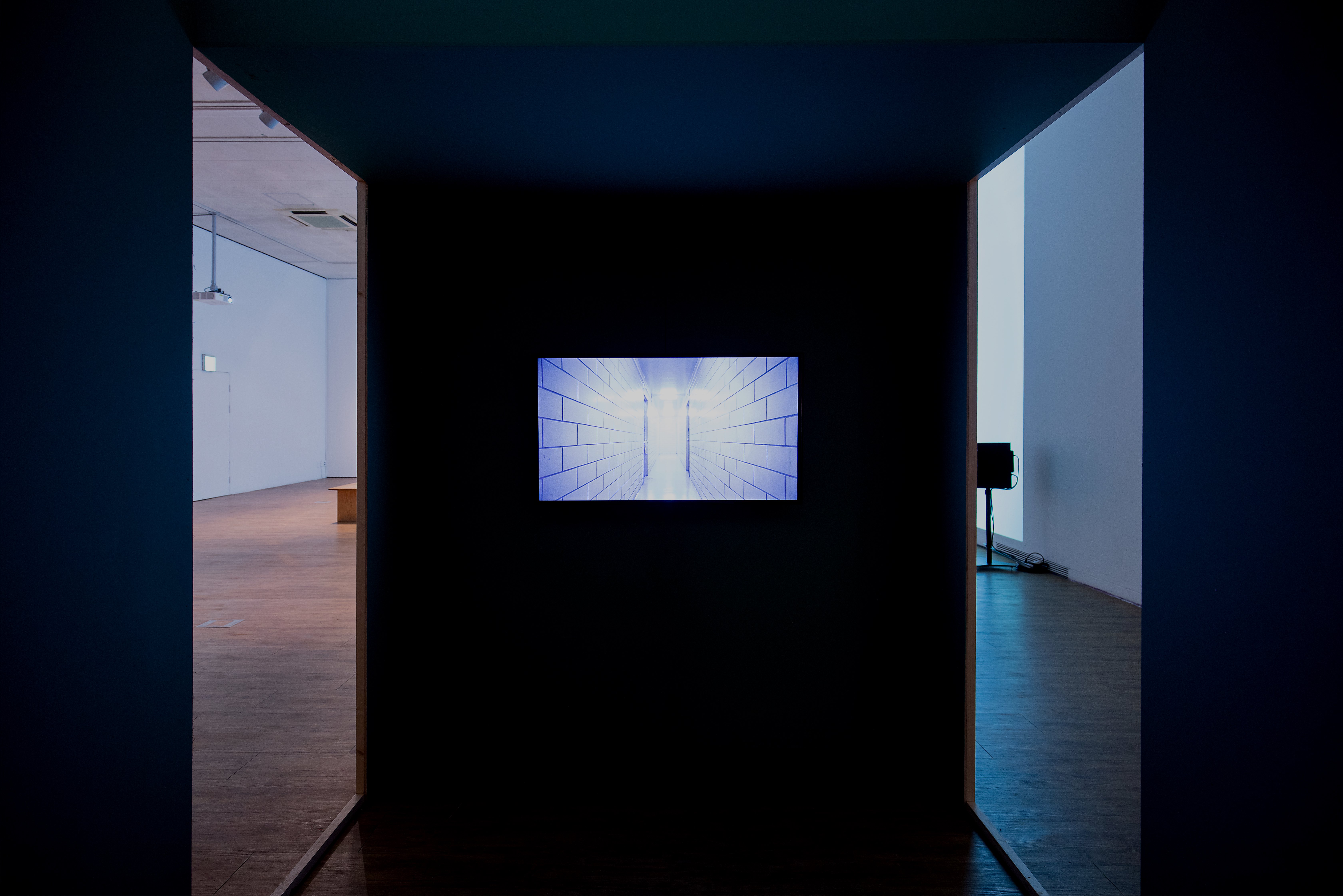 Ming of Harlem in 'Tiger Lives'
Two-screen installation in exhibition at Coreana Museum of Art, Seoul. 2020. Photograph © Coreana Museum of Art, Seoul
Outlandish: Strange Foreign Bodies
Featured in the Strange Foreign Bodies exhibition at Hunterian Glasgow, 2019. From the collection of the artist and The Hunterian, Glasgow. Photograph © Ruth Clark


In Any Direction
Fellows exhibition at the Radcliffe Institute,
Concrete sculptures, and images from 'Breathcrystal'. Harvard University, 2017 ©Phillip Warnell


Two-screen installation of Ming of Harlem
Exhibition at The Wellcome Trust, London. 'Making Nature', Dec 2016 - June 2017. © Wellcome images
O
Exhibition featuring collaged material from the performance 'O', Salonul, Bucharest, 2017 (curator Mihnea Mircan)
The Flying Proletarian
Installation at Studio 55, Seoul, South Korea, 2017
Placebo: animal magnetism
Slide projection and light box, installed at the 300m3 gallery, Gothenburg for 'Event Forming Bodies', a solo exhibition in 2008. A group of seven people, each holding a protruding skeletal arm, are gathered around the sole surviving example of Mesmer's 'baquet'; a vat filled with magnetized water and covered in masonic marquetry. The object was intended to offer an uncanny group therapeutic circumstance whereby self-diagnosis was possible via the body becoming transparent.
Ming of Harlem: Twenty one Storeys in the Air
Installed at Tyneside Cinema Gallery, solo exhibition, Newcastle, April 2016
Six
Six x A2 lightboxes displaying photographs taken of an archival collection of organic stones, extracted posthumously from the human body. Seen here at Leamington Spa Gallery project space in a solo exhibition, 'Introspection-Extramission' in 2008. Also exhibited at Le Dojo, Nice in 2007.
I first saw the light
silent 12 minute film on Super 16mm film loop. Commissioned by and installed at The South London Gallery, curated by Anne-Sophie Dinant, a solo presentation in 2012. The film channels the vestige of Joseph Merrick's output, (better known as the 'Elephant Man'). A two-page autobiography and encased, constructed card church are presented as variously filmed object and inter-titles.
The Girl with X-ray Eyes
at the Sharjah Biennial outdoor cinema on 35mm in 2012
programmed by Jean-Pierre Rehm and Apichatpong Weerasethakul.
The Double Wedding
2 x gold wedding rings, X-ray.
Halved Lithic (Kidney) stone set within two wedding rings, coupled with an archival X-ray. Collection of the artist and the Gordon Museum, London.


"British filmmaker Phillip Warnell subjects not the exterior but the interior of his body to the scrutiny of the electronic eye. Warnell's piece "Sensors on the Abdominal Wall" offers footage from a live performance in which the artist swallowed a pill-sized camera, allowing the audience to see images of incredible exotic terrain inside Warnell's intestinal tract. Warnell's piece invites us to marvel at the dynamism of the human organism, and asks us to consider if we can really accept the notion, advanced by some transhumanists, that consciousness can be transferred from a living body to a new machine host without experiencing any loss."

Sensors on the abdominal wall
Video object with six hexagonal images, developing performance material of a journey through the GI tract of the artist.

Seen in installation in Transhuman Conditions, exhibition at Arlington Arts Center, Washington DC, 2010
Jeffry Cudlin


Living room: bioluminescence
round-bottomed glass flasks containing cultured single-cell bioluminescent organisms, whose day and night is controlled to enable a display of their glow in the dark capabilities
Installation at ICA, London, 2006


Placebo (analogue slide projection) and The Girl with X-ray Eyes
Installed at Leamington Spa Art Gallery & Museum, 2008



Shield
garden tool handles, circular light boxes, metal framework, photographic found footage still images, 2007. Presented at Vooruit Arts Centre, Ghent and Braakegrond Arts Centre, Amsterdam.
Fever
four screen installation
300m3 gallery, Gothenburg, 2008


Host, film loop/video work, performance,
Warwick Arts Centre, 2006


Shock
Two-screen synchronised high-speed video work, 2004. Presented at Matts Gallery, London in a three-person exhibition on two suspended monitors in 2005 and at the Madrid Open in 2006. Double flipbook publication with essay by Ric Allsopp 'Shock Tactics'. Published by First Site, Colchester, 2004.
Matts Gallery




Couples
Freestanding projection (silent) with distemporal relationships played out. Each member of a couple is startled (via an unheard sonic noise) at a different time in an otherwise seemingly integrated space. Seen in installation at 'Zero Visibility: of the Reverse Order' (with Studio Azzurro, Bill Viola, Gary Hill, Francisco Ruiz de Infante, Bruce Nauman) at MOMA, Ljubljana, Slovenia and Castle Colonna, Rome, 2005.





Streaming
Horizontal liquid pour across the artists' face.
Seen in installation at La Caldera (CCCB), Barcelona, 2004.