Contact: info@phillipwarnell.com


"I'm very interested in ambiguity and things that you can't prove, those that are forever unknown, but which leave effects. Unverifiable, unintelligble or unexplanable things, sometimes with extraordinary, outlandish claims attached. When someone says they did something and you can't disprove it, there's even a sense of wonder to that. Actually it's something we all do in our own ways. Looking back, we (over) emphasise, and exercise preferences towards or away from ourselves. This is how we gain proximity and distance. I love that we do that."

Biography

Phillip Warnell is an artist-filmmaker and writer from London, a first generation university graduate from a working class background.

He produces cinematic and art works exploring a range of philosophical, poetic and sensorial thematics: ideas on human-animal relations, the political and cinematic imagination, the presence of those with prescient or extraordinary attributes and the poetics of bodily and life-world circumstances. His work is often performative, establishing elements for a film shoot as (part) event, resulting in an interplay between scripted, documented and (sometimes) precarious filming circumstances.

'Ming of Harlem' (2014), won the Prix Georges de Beauregard at FID Marseille film festival in 2014 and the Universities Culturgest Prize at Indie Lisboa in 2015. Recent work includes 'The Flying Proletarian' (2017), a sensory, olfactory film composed of ideas on the figure, the open and the land as a shared skin. 'Intimate Distances' (2020) features an on-screen contribution from US based casting director Martha Wollner, exploring ideas of future and/or anonymous insurgence. It premiered at Visions du Reel, Switzerland in 2020 and has been awarded best edited film prize (Juan Soto) at the Black Canvas film festival in Mexico City, 2020 and a special mention in the International film competition at Transcinema, Peru (2021). It featured at Berlin Film Festival (Critic's week, 2021), Rencontres Internationales Paris/Berlin (2021) had an Asian premiere at Jeonju International, Korea (April, 2021) and US premiere at First Look (MOMI) in July 2021.

Warnell's writings to date on cinema, animality (cinemality) and philosophy have been distributed in a range of publications, including an article/photowork in development for ''Que Parle' (Duke, 2022); 'The Skin of Others' for Antennae journal (2020), a book chapter on 'Fearful Symmetry' for: Ethical Materialities in art and moving image (Bloomsbury academic, New York 2021, forthcoming); an essay for a compendium on filmmaker Walerian Borowczyk ('The Beast with two backs', L'Ile d'Amour - Berghahn, 2015) an article/guest edited issue of Journal of Performance Research ('Life-like: an organ in search of a body', Routledge Press, 2010); a chapter interview in Zoo & Screen Media: Images of Exhibition and Encounter ('The Wild Inside', Palgrave 2016) and a book chapter on his considerable level of collaboration (films, texts and photo works) with philosopher Jean-Luc Nancy ('Writing in the place of the animal', Jean-Luc Nancy and Visual Culture - Edinburgh University Press, 2015). Warnell has also produced artists' publications, including 'Outlandish' (2010) with an original text by Nancy and Warnell respectively: 'Strange Foreign Bodies' and 'The Sea with Corners'.

He contributes regularly to research events and symposia, speaking on the above, most recently at MOMI New York (2019), Harvard Film Archive (HFA), Sensitive Film, ICA London (2020) and convener of an influential symposium: Wild Minds at ICA, London (2017); speaking on his PhD 'anatomy of the incorporeal' at Cinetech Madrid (2019) and 'animal consciousness' at CPH-Dox international film festival in 2017. Other recent talks include at Northwestern University, Chicago (2018), Visions experimental film centre, Montreal (2018), Tate Modern (Museum of Clouds, 2018).

His film work screens internationally in festivals, galleries and curated screenings including: Pompidou Centre, Paris (2022); Art Encounters Biennial, Romania (2021); Berlin Film Festival (2021); JeonJu, Korea (2021); First Look (MOMI, 2021); Visions du Reel, Switzerland (2020); Copenhagen (CPH-Dox: 2009, 14, 17); Sheffield Docfest (2017); Mumbai (MFF, 2016); ICA London (2016); CCA Glasgow (2016); Mexico City (Ficunam, 2015); Buenos Aires (BAFICI, 2015); Brazil (Curitiba, 2020, 15); Poland (New Horizons, 2015); New York (NYFF, 2014); Vancouver (VIFF, 2015); Vienna (Viennale, 2020, 2014); Marseille (FID, 2008, 09, 14); Amsterdam (IDFA, 2008, 14); Locarno (2012); Montreal (FNC, 2012, 14). Curated screening programmes and exhibitions include: Tate Modern (2018, 2015); Coreana Museum of Art, Seoul (2020); Studio 55, Seoul, British Film & Video (three solo exhibitions, 2017); Tyneside Cinema gallery (solo, 2016); The Hunterian Glasgow (solo, 2022; group 2019); The Wellcome Trust (2017), Paris & Berlin (Rencontres, 2008, 09, 12, 14, 15, 21); Sharjah Biennial (2013); Tallinn (CCA, 2014), Project Space Dublin (2015), KW Institute Berlin (2015), Extra-City Antwerp (2014); MOMI New York (2014, 2019, 2021), Fotogalerie Vienna (2014, 15); LOOP Barcelona (2020, 2011), Leamington Spa Gallery (solo, 2008); 300m3 Gallery Gothenburg (solo, 2008); Matts Gallery London (2005); MOMA Ljubljana (2003); CCCB Barcelona (2001). He has presented numerous solo performance-event works over an extended period including at MACRO (Rome, 2004); ICA (London, 1999, 2006).

Currently, he is a Professor in Audio-Visual Arts at LUCA, Brussels and undertakes PhD supervision and research as a Professorial Fellow at UCA in the UK. At LUCA, he is also co-director of a newly formed research cluster, Dispositif. Previously, he has worked on numerous project-based partnerships, formerly as an experimental film programmer for the BFI's Essential Experiments (2010-13), and as a professional mentor for emerging filmmakers on the European funded programme Doc-Next. He worked as an executive producer for the C4 'Random Acts' London network consortium, commissioning short films for television between 2015-18, instrumental in the selection, commissioning and creative producing of short films with the same consortium for BBC 'New Creatives' moving image and radio platforms between 2019-21. He occasionally writes artists' texts for publication, including An Intelligence of Things for Pamela Breda in 2021. He also contributes to narratives on the development of a philosophical screen, via panel papers and publications on experimental filmmaking and associated ideas.

He was Director of the Visible Institute for research in film and photography and MA Experimental Film at Kingston University, London , undertaking doctoral supervision on (moving) image-making and theoretically inclined interdisciplinary PhD's, including Charlie Tweed and Pamela Breda. He has held academic posts at George Mason University (Washington DC), Warwick University (UK) and the University of Gloucestershire (UK). He sometimes acts as an external examiner for academic PhD vivas, including in 2021 at Newcastle University, UK. During 2017-18 he was a recipient of a prestigious FSC-Radcliffe Institute in Advanced Studies and Film Study Center fellowship at Harvard University, USA.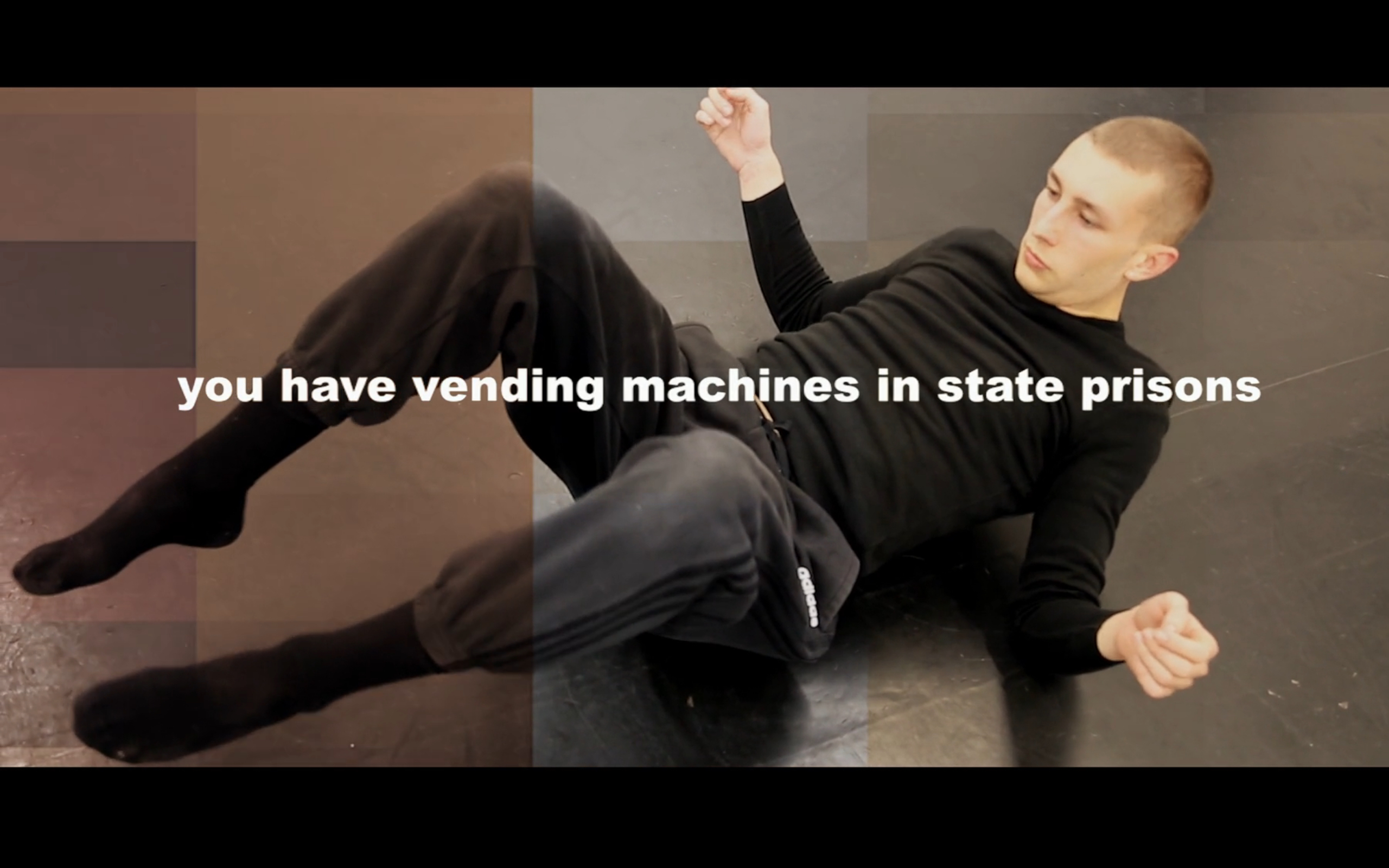 The Whole Nine Yards, work in progress, 2021

Warnell studied at Middlesex University, Chelsea College of Art & Design (UAL), FAMU (Prague) and AVU (Prague) including a period at Cergy Pontoise in Paris . He was taught by, amongst others: Simon Read, Rose Finn-Kelcey, Patrick Keiller, Suzannah Heron, Judith Goddard, Helen Chadwick, Tansy Spinks, Rachel Whiteread, Guy Sherwin, Milos Sejn and more recently Stephen Barber.

Warnell recently exhibited Ming of Harlem as a two screen installation at Coreana Museum of Art in Seoul (Sept-Dec 2020) and is currently preparing new work for a solo exhibition at the Hunterian Contemporary art space in Glasgow in 2022 and an Art Encounters biennial in Romania. He completed his PhD in 2020 (supervisor) Professor Stephen Barber: 'Anatomy of the Incorporeal', on his extensive collaborations with Jean-Luc Nancy.


Tiger Lives exhibition at Coreana Museum of Art, Seoul: Sept-Dec 2020. Touring in 2022.

He presented (Oct-Nov 2021) work in 'Landscape in a convex mirror' with: Benjamin Bannan, Rosa Barba, Erik Bünger, Alexander Carver, Traian Cherecheș, Sara Culmann, Dušica Dražić, Sári Ember, Alice Gancevici & Remus Pușcariu, Fabien Giraud & Raphaël Siboni, Adela Giurgiu, Femke Herregraven, Florence Jung, Hiwa K, Zsófia Keresztes, Szabolcs KissPál, Gert Jan Kocken, KwieKulik, Oliver Laric, Magdalena Łazarczyk, Gili Mocanu, Jean-Luc Moulène, Robertas Narkus, Miklós Onucsán, Manuel Pelmuș, Joanna Piotrowska, Laure Prouvost, Ana Prvački, Flaviu Rogojan, Daniel Steegmann Mangrané, Saul Steinberg, Hito Steyerl, Remco Torenbosch, Achraf Touloub, Julijonas Urbonas, Lonnie van Brummelen & Siebren de Haan, Jonathan van Doornum, Bernard Voïta, Phillip Warnell
Art Encounters


Selected Film Screenings/exhibitions/texts
(since 2012)

2022
'Que Parle' journal dossier on Jean-Luc Nancy, Duke, USA
Jean-Luc Nancy colloquium, Pompidou/L'ENS, Paris 22-24 Jan
Tiger Lives exhibition (touring, Korea), 2022

2021
Tribute to Jean-Luc Nancy screening, FID Marseille
Tribute to Jean-Luc Nancy screening, La Fonderie du Mans
First Look, MOMI New York
Art Encounters exhibition, Romania (Biennial + online at TIFF Romania)
Vladivostok Festival (Tiger Lives), Russia
Jeonju International Film Festival, Korea
Rencontres Internationale, Paris/Berlin
Berlin Film Festival, Critics Week
Transcinema, Peru (award)
MUBI, Ming of Harlem (UK)
FIC Valdivia, Chile (autumn edition)
Museum of Modern Art of Medellín, Colombia (MAMM)

2020
Tiger Lives, exhibition, Coreana Art Museum, Seoul
Open City Docs, London
Viennale, Vienna
The Hunterian, Glasgow
Visions du Reel, Switzerland
Sleeping with a Tiger, K-Gold gallery, Lesvos, Greece
Valdivia, Chile
Black Canvas, Mexico (award)
MIDBO, Colombia
Linea D'Ombra, Italy
DocBsas, Buenos Aires (retrospective)
LOOP Barcelona (paper by Filipa Ramos)
Curitiba film festival, Brazil

2019
Suprainfinit Gallery, Bucharest
FIDLab forum, Marseille
EICTV Film School, Cuba
Cineteca, Madrid
MOMI, New York
Strange Foreign Bodies , The Hunterian, Glasgow

2018
Tate Modern artists' film programme 'Remote Sensing', Museum of Clouds forum, London
Moscow International experimental film festival (MIEFF)
Visions Experimental Film Center, Montreal
Harvard Film Archive, Cambridge
FICIC film festival, Argentina
Block Cinema, Chicago
Museo Tamayo contemporary art museum, Mexico City
In Any Direction, Radcliffe Hall Harvard

2017
The dark side of the moon, CentroCentro, Madrid
Box with the sound of its own making, Plan b gallery, Bucharest, Romania.
British Film and Video, Seoul Korea (two works), nominated by Tate Film, catalogue, with Rachel MacLean and Adam Lewis Jacob
Sheffield Documentary Film Festival, UK (The Flying Proletarian) 'artists on celluloid' programme, with Luke Fowler and Fern Silva (the first screening of a scent-augmented film at the festival in its 24 year history)
CPH-Dox international Film Festival, Copenhagen
Aberrations, Illingworth Kerr gallery, Calgary, Canada, curated by Elisabetta Fabrizi
Making Nature. Ming of Harlem two-screen film installation, The Wellcome Collection, London

2016
PAF Contemporary Art, Czech Republic
Picturehouse Central, Trocadero, London. Ming of Harlem
Centre Culturel de Cassis, Cassis cinema screening: Ming of Harlem & 'carte blanche' Phillip Warnell
CCA Glasgow
Home, Manchester
Bots, Bodies, Beasts, Gerrit Rietveld Academie, Amsterdam
Tyneside Cinema Gallery, solo exhibition, curated by Elisabetta Fabrizi
ICA artists' moving image biennial, London.
Royal College of Art, screening and artists' talk
DAI Institute, Netherlands, screening of Outlandish

2015
Kunst-werk Institute for Contemporary Art, Berlin
Dieren Animals film festival, Holland
Fotogalerie, Vienna. Group exhibition
VIFF Vancouver International Film Festival, Canada
Rencontres Internationales, Haus der Kulturen der Welt Berlin
New Horizons Film Festival, Poland, in competition
Viafarini, Milan. Curated screening
Signes de Nuit Film Festival, (Ming of Harlem) Saarbrucken (Germany) and Lisbon
FICIC, Argentina, curated screening on cinema and letters, (Outlandish & Ming of Harlem)
Hocus Focus, Phillip Warnell & Ben Rivers screening, Berlin
FICUNAM International Film Festival, Mexico City, (Ming of Harlem) in competition, included a regional tour of six Mexican cities
Curitiba International Film Festival, Brazil, in competition
BAFICI International Film Festival, Buenos Aires, Argentina, (Ming of Harlem) in competition
IndieLisboa International Film Festival, Lisbon (Ming of Harlem), in competition
Tate Modern, London, screening double bill of my films and in-conversation with Jean-Pierre Rehm (Ming of Harlem & Outlandish). Launch event for Tate.
Project Arts Centre, Dublin. Breathcrystal, group exhibition, (Outlandish) curated by Mihnea Mircan
Doc-Point Documentary Festival, Helsinki, (Ming of Harlem)
Photon Gallery, Vienna (I first saw the light), group exhibition
Museum of Hunting & Nature, Paris, curated screening (Ming of Harlem)
Bozar Cinema, Fine Arts Centre, Brussels, screening (Ming of Harlem)
Nova Cinema, Brussels, screening (Ming of Harlem)

2014
Allegories for a Cave Painting, Extra-City, Antwerp (group exhibition, Outlandish) curated by Mihnea Mircan
Contemporary Arts Centre (CAA), Tallinn, Estonia (Ming of Harlem)
New York Film Festival, (NYFF) Projections avant-garde section (Ming of Harlem) programmed by Dennis Lim & Aily Nash
CPH-Dox International Documentary Festival, Copenhagen, (Ming of Harlem)
Rencontres Internationale, Paris (Ming of Harlem)
IDFA Amsterdam, (Ming of Harlem)
Viennale Vienna International Film Festival, Vienna, (Ming of Harlem)
Schermo dell'Arte, Florence Film Festival, (Ming of Harlem)
Jihlava IDFF, Czech Republic, (Ming of Harlem)
Valdivia International Film Festival, Chile (Ming of Harlem)
Leipzig Cinematheque, focus on six artists, screening (Outlandish) and artists talk
Festival of New Cinema (FNC), Montreal (double bill: Ming of Harlem, Outlandish)
FID Marseille International Film Festival, Ming of Harlem
Furtherfield Gallery, London (group exhibition, Electric Hare), curated by Kerry Baldry
Vdrome, online exhibition of Outlandish (text by Maeve Connolly) curated by Filipa Ramos
Ich, Photographers Gallery, Vienna (group exhibition on biography, I first saw the light), (catalogue/essay)
Kosmorama. Trondheim Film Festival, Norway. Curated screening programme. (Outlandish)
Biennial of Contemporary Art of Cartagena de Indias (1st edition). Curated screening (I first saw the light)
Falling Through the Cracks, LALD Gallery, Italy (group exhibition, Outlandish)
The tongue shapes words all too quickly, Triangle Space, Chelsea, London. (group exhibition)

2013
Museum of the Moving Image, Astoria, Queens, New York City. Curated screening by FID Marseille
Art Verona, art fair with LALD gallery, Italy (Outlandish)
The Ears, the eyes, the lips: what community? Curated film screening by Jean-Pierre Rehm. CCA, Tel Aviv (X-ray Eyes)
Channel 4 Television broadcast, The Scales and Stripes
Glasgow Film Festival: Random Acts, The Scales and Stripes (Channel 4/FACT)
Oberhausen Film Festival Random Acts, The Scales and Stripes (Jacqui Davies/FACT)
Kino der Kunst, Munich. Random Acts, The Scales and Stripes (Jacqui Davies/FACT)
Sharjah Biennial 11: cinema screening programme curated by Apichatpong Weerasethakul. (X-ray Eyes)
Gaite Lyrique, Paris. Curated screening, D is for Documentary (I first saw the light)
Rencontres Internationales, Berlin & Madrid (I first saw the light)
One-minute cinema 1-6: screenings at Furtherfield Gallery, London. Wavelength

2012
A thing for a thing: ICA London, curated screening on language and film (Outlandish)
Rencontres Internationales. Palais de Tokyo, Paris. screening (I first saw the light)
Ho Chi Minh Fine Arts Museum, Vietnam: curated screening (Outlandish)
Locarno International Film Festival: I first saw the light world premiere
Festival of New Cinema (FNC), Montreal: October (I first saw the light)
Philosopher's Night: Cine Lumiere, London (Three screenings of Outlandish at the French Institute)
South London Gallery: Solo exhibition, (I first saw the light) part of PAMI
One-minute cinema volume 5: (Wavelength) at The Directors Lounge, Berlin, FACT

Recent conference/symposium/visitor talks:
Centre for Post-digital Cultures, Coventry University, 2020
Sensitive Film series at ICA London, 2020
Sensory Ethnography Lab, Harvard, 2018
Wild Lives, MOMI New York Science on Screen programme, 2019
Wild Minds: convenor of an ICA faculty research symposium on the ambiguities of knowing 'wild minds', March 2017
Documentary Academy conference speaker, CPH-Dox, Copenhagen, March 2017
Bartlett review at Newcastle University for Fine Art graduates, June 2016
Ethics and the Moving Image: UCA Canterbury, paper on 'writing in the place of the animal', June 2016
Convener of Screen & Animal Encounters artists workshop, ICA artists' moving image biennial, London, May 2016
Bots, Bodies, Beasts: Gerrit Rietveld Academie, Amsterdam, Mar 2016
Guest Lecture at RCA, Moving Image programme, London Mar 2016
Guest Lecture at Newcastle University, Mar 2016
Strangelove, CSM, March 2015 (talk on collaborations with Jean-Luc Nancy)
Stromung mini film-fest focus, invited talk, Leipzig, Sept 2014